Shopping Cart
Your Cart is Empty
There was an error with PayPal
Click here to try again
Thank you for your business!
You should be receiving an order confirmation from Paypal shortly.
Exit Shopping Cart
Waxing ~ Massage ~ Spray Tan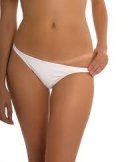 Aesthetic Beauty & Massage has been offering the best spray tans in Perth since 2001. Our personalised consultation will match the right spray tan to your needs. Aesthetic Beauty & Massage offers at least 8 different options which can be divided into the following groups:

Light - Lasts 2-5 days and no risk of orange or going too dark. Great for first timers or very fair skinned clients.
Medium - Lasts 5-7 days, choice of warm based or cool based bronzers to suit complexion and preference.
Dark:- Lasts 7 days, choice of warm based or cool based bronzers.
Organic: Organic medium to dark shades with purple/brown base.
Express: Warm based tan designed to be washed off after 2 hours.

Our procedure is tailored to your needs, including contouring techniques to build a flattering and realistic sun kissed tan. 


Below are some helpful tips on how to prepare and maintain your spray tan:


Wax/shave 48hrs before your tan. This allows the pores time to close otherwise dotting in pores may appear.

Exfoliate and moisturise 24hrs before your tan, paying particular attention to your knees, elbows, ankles and problem dry areas.

Do not apply moisturiser, deodorant or foundation before your tan or until after your first shower.

Always wear loose, dark coloured clothing after the initial application while the colour is developing on your skin.
Avoid wearing tight clothing such as jeans, socks, bra, tights, watch, sneakers etc.

Avoid sitting on particularly porous surfaces such as suede, leather, pale fabrics etc as staining may occur.

While your spray tan is developing before your first shower, avoid any physical exercise, heat or other situations where you may sweat. Also avoid situations where you may potentially get wet as both of these factors can affect the outcome of your spray tan while it is developing. If this does occur, usually your tan will be unaffected and just the surface bronzers will appear blemished but the actual result will be indicated after showering.

Your spray tan should last between 5 to 10 days (except fair tan = 3-5 days). Using a good quality moisturiser, body oil, bath oil or tan extender each morning will help to prolong the life of your spray tan.

Avoid chlorinated swimming pools/ocean during the life of your spray tan as chlorine will strip the product from your skin.

Always remember to apply a high spectrum SPF sunscreen because although you may look brown after a spray tan, your skin still burns as fiercely as it normally would.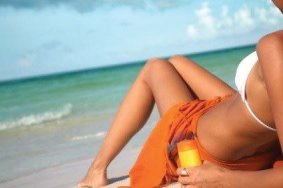 Come and experience the difference for yourself. Book your spray tan today!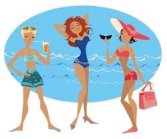 Spring is finally upon us and the weather is warm and sunny! If you are feeling a little fair skinned we can help with an Aesthetic Beauty Spray Tan!

We are sharing some great tips on what to do before and after your spray tan session, for a radiant, even tan that will last longer and fade evenly.

1) Waxing and shaving must be done before your spray tan but you must allow enough time for the empty hair follicles to close.
If you do need to wax or shave, do this AT LEAST 24 hours before your spray tan is applied. If the skin is not allowed to 'rest' for long enough after shaving, you may notice some 'spotting' in your tan as the solution settles in the empty hair follicles.
Shaving or waxing too soon after your tan will lift or drag away the top layers of dead skin cells, along with your tan coloring, causing it to fade. So to recap – for the BEST tan result, get all waxing done the day or two before your spray tan.


2) Thoroughly exfoliate your body prior to your spray tan appointment

The surface layer of your skin naturally has many layers of dead skin cells (the stratum corneum) and it's this layer that the spray tan adheres too. The thicker this surface layer, the sooner your spray tan will rub off, as the skin cells naturally slough away. If you exfoliate your skin before the spray tan is applied, this surface layer will be much newer, and take several weeks to build up allowing your tan to last much longer.

For the best results, dry brush* before a shower, then use an exfoliating product and glove on your entire body before your spray tan appointment. Pay special attention to your elbows, knees, ankles and hands. This will remove dead skin cells and will help produce an even tan which will last that little bit longer. Try to avoid using exfoliating products containing oils, as these may leave an oily barrier which the spray tan solution can't penetrate evenly.



3) Don't apply moisturisers, deodorants, perfume or make up
Some cosmetics, sprays or creams can act like a barrier on your skin, which could make your spray tan appear patchy, or fade more quickly. Some deodorants can cause discolouration around the armpits!

Of course, as soon as the spray tan is applied, set and washed off, you can apply your usual creams and deodorants without any problem.


Consultation is an important part of spray tan application. There are many different options available to you. Aesthetic Beauty & Massage have the following spray tans:

$30 Light: Best for the fair skinned beauties that want a natural sun kissed colour.
$35 Medium: Good for all skin types.
$40 Express: Dark and fast developing. Wash off after 2 hours.




5) Wear loose clothing to your appointment
As part of the application process, your spray tan will be air dried however your tan will need around an hour to start developing. During this time avoid risking marks in your new spray tan by clothing or shoes. Loose-fitting clothes and open footwear such as thongs are best to wear straight after your tan.



6) Once your tan is set, remember to moisturise


Keeping your skin well moisturised and hydrated will prolong the life of your tan considerably, and ensure an even fade. Use gentle, moisturising shower gels with a soft cloth (nothing rough) when bathing and always apply a moisturiser after bathing.
So there you have some great tips to get the most out of your spray tan! If you need one please call or sms Aesthetic Beauty & Massage on 0422 925 372 or purchase
online
. We look forward to pampering you!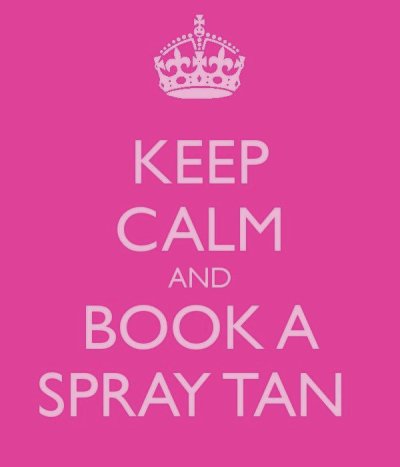 *Dry brushing is a really good way to stimulate blood and lymph flow and give your body a boost – more about this in the next blog!
/